Descripción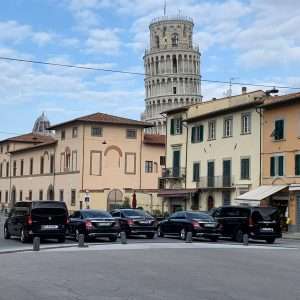 Your tour of Pisa begins by heading directly to one of the most famous squares in the world, the stunning Piazza del Duomo. It is home to the leaning tower of Pisa, begun in 1173 and constructed over a time span of 200 years.
A city of medieval walls surrounding a historic centre rich in monuments and works of art of extraordinary value.
Pisa is the origen uncertain, according to the history was established for the Focesi (VI b.C), some other information says that was the Etruscan. It was true that Pisa became a very important Port during the Imperial and continuos its develop as trade activity.
At the beginning of the 1000, Pisa was a powerful Maritime. It rises close to the Tirrenian sea, Corsica and Sardinia. Furthermore, could boast of many victories against the Muslim ships.
Oriented towards Ghibelline politics, Pisa was the only free Commune in all of Tuscany to openly support the Swabian sovereigns (Frederick I Barbarossa, Henry VI, Frederick II, Manfredi and Corradino) and were thus in contrast with the Papacy. Also it was excommunicated in 1241 for having captured and consigned to the Emperor Frederick II.
The gradual decline of the city was decreed by its rival Genoa with the defeat of Meloria in 1284 and subsequently also by Florence. The loss of Sardinia and predominance over the sea placed Pisa in a kind of isolation from which it only emerged around 1500.
Pisa is not just the tower, is also a strongly city, characterised by enviroment treasures, first its Marina, a tourist place established during the years of Belle èpoque and Liberty. Secondly, the Park of San Rossore, with its homonymous estate. All this, and much more, mades Pisa a wonderful and unique city in the vast panorama of the so called art cities, and it offers tourist and visitors an infinite selection of attractions, from historic-artistic ones to holidays. A city of medieval walls surrounding a historic centre rich in monuments and works of art of extraordinary value.
The tower was designed to be "vertical", but started to incline during its construction, which began in the august of 1173 and continued for about two hundred years. The architect is still uncertain. Even if it did not lean it would still be one of the most remarkable bell towers in Europe. The present tower has been the object of very special attention and since the 1173 thanks to its beauty, during its construction efforts were made to halt the incipient inclination through the use of special construction devices. Some of the later colums and other damaged parts were changed in more than one occasion. Nowadays, interventions are being carried out in order to significantly reduce the inclination and to make sure that the Tower will have a long life.
Duration of the private Pisa Shore Excursion Tour:
4 hours or  8 hours  or 10 hours
Departure Time:
Morning – you can request whatever start time you like
Departure Point:
At disembark of your cruise ship in Livorno port
Inclusion:
– Deluxe  car (1-3 people)
– Deluxe minivan (4-6 people)
– Deluxe minivan (7-8 people)
– Professional English speaking driver
Exclusions:
Gratuities (optional),
Admission fees to church and museums
Meals and beverage
Notes:
More than 8 persons: rates available on request 
Extra hours to be paid on site to the driver
Changes and Cancellations:
Free of charge up to 48 hours before the start of the tour
Return to the ship guaranteed:
We work every day with cruise passengers, so we know exactly what time it is necessary to return to the cruise ship dock. We guarantee your timely return to your ship.
Does the ship not dock at the port due to bad weather conditions?
If your ship does not dock at the port due to bad weather conditions and you are unable to carry out this activity, your money will be refunded at 50%
Each suggested tour or excursion you can view on this website is only a suggestion based on previous requests by our clients.